Swachh Bharat Mission (Urban)
Swachh Bharat Mission (SBM) or Clean India Mission is a campaign in India that aims to clean up the streets, roads and infrastructure of India's cities, smaller towns, and rural areas. The objectives of Swachh Bharat include eliminating open defecation through the construction of household-owned and community-owned toilets and establishing an accountable mechanism of monitoring toilet use. The mission aims to achieve an Open-Defecation Free (ODF) India by 2 October 2019, the 150th anniversary of the birth of Mahatma Gandhi.
Key thrust areas of the mission include:
Elimination of open defecation.

Eradication of Manual Scavenging by converting insanitary toilets to sanitary.

Modern and Scientific Municipal Solid Waste Management.

Effecting behavioral change regarding healthy sanitation practices

.

Awareness generation about sanitation and its linkage with public health

.

Capacity Augmentation for Urban Local Bodies (ULBs) to create an enabling environment for private sector participation

.
The Mission has the following key components:
Individual Household Toilets

Community Toilets

Public Toilets

Information, Education and Communication (IEC) & Public Awareness

.

Capacity Building & Administrative and Office expenses

.
INDIVIDUAL HOUSEHOLD LATRINE (IHHL)
The component IHHL under SBM(U) to ensure that
     a) No households engage in the practice of open defecation
     b) No new insanitary toilets
     c) Single pit latrines are converted to sanitary latrines
Financial Assistant:
| | |
| --- | --- |
| | Unit Cost is Rs.5300/-, Central share will be 80% (Rs 4,000/- per IHHL) and State share will be 20% (Rs 1,300/- per IHHL) and Additional Incentive for special vulnerable group is Rs.2700/-. |
| | Later as per Govt. Letter No. 21138. Dt.14.09.2017, The Unit Cost is Rs.6667/- (instead of Rs.5300/-) and Additional Incentive for special vulnerable group is Rs.1333/-. |
| | All financial incentives for this component will be deposited directly into the bank accounts of the beneficiary households. No cash/cheque disbursals shall take place. |
Flow of IHHL applications: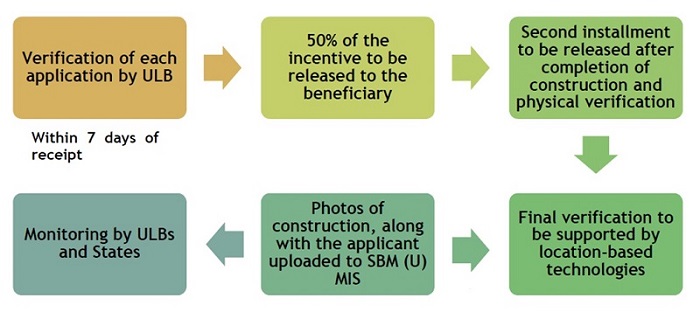 Community Toilets (CTs)/ Public Toilet (PTs):
| | |
| --- | --- |
| | Community toilets, beneficiaries shall be defined as groups of households in urban areas whose members practice open defecation and who do not have access to household toilet, and for whom the construction of individual household toilets is not feasible. |
| | Beneficiary household groups under this component of SBM (Urban) shall be identified by the procedure as designed by the ULB. |
| | Beneficiary household groups will be targeted under this scheme irrespective of whether they live in authorized/ unauthorized colonies or notified / non-notified slums. |
| | Care should be taken to ensure that these facilities have adequate provision for men, women and facilities for the disabled (e.g. ramp provision, Braille signage, etc.) with water supply arrangements. |
| | All community and public toilets under SBM (U) must have a minimum 5 years of maintenance contract. |